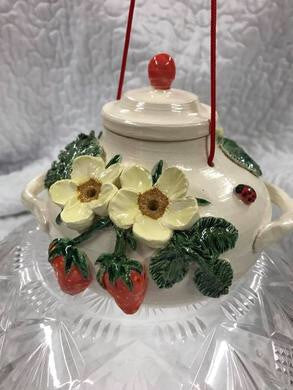 Strawberry Fields Hummingbird Feeder (Art Piece)
Regular price $125.00 Sale
This hummingbird feeder is SPECIAL ORDER ONLY.
It will take at least 3-4 weeks to turn a ball of clay into this beautiful piece of art for you. Please be aware of this time frame when placing this order. Every handspun pottery hummingbird feeder is a unique piece of art. The pot for this piece is spun on our pottery wheel. Flowers and swing are formed by hand from clay. The whole feeder is then hand painted and dipped in glass glaze and fired. 100% non toxic food safe materials used only. Feeder is designed to be bee safe having 1/8 inch port holes preventing bees from entering feeder. Simply fill your feeder almost to the flower holes, so bees can not reach the nectar with their short tongues. Hummingbirds will easily reach deep inside to get nectar with their very long, over 2 inch tongues. Our feeders are very easy to clean, and our hummingbird feeders do not drip. Your feeder will be made and colored this style. "Strawberry Fields" is an stunning handmade feeder. Holds about 10-14 ounces of nectar. Comes with hanging string and ring. The pot has a white base with strawberries, flowers, leaves, perches and lady bugs. Truely a fun unique piece. This pot has 4 ports for feeding.
All pots are about 5x4 give or take an inch or so.
Only use 4 parts water 1 part pure sugar. No red dye. No substitutes. Clean feeders regularly for health and happiness of the hummingbirds.
Easy to clean
Bee proof
100% non toxic
Keeps nectar cooler
Made in the USA
Non Drip
Beautiful
All of our pots are about 5x4 inches give or take an inch or so. 
*Only use 4 parts water 1 part pure sugar to make nectar. No substitutes. No red dye.  Clean feeder and refil every other day.